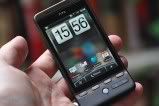 Since out last HTC Hero review roundup a number of excellent reviews have been released that we thought we should highlight. Given the phone's release there seems to be a tonne of information on the Hero right now. Obviously some of this doesn't relate to reviews, so we thought we'd list some of those as well. Especially as it would take forever to put a separate post for each one!
The general consensus of those reviews seems to be that the Android & Sense interface is great, but that it is let down by the hardware powering it. Sluggish or 'laggy' UI is something that seems to crop up quite often in these reviews, but I do wonder whether future firmware updates will make a difference. Time will tell on that one, but in the meantime check out a list of the latest reviews after the jump (along with some hands-on previews).
Reviews
Boy Genius Report: "HTC's achievements and innovations aren't anything to dismiss, they are what to me makes Android usable, but with the current hardware powering the HTC Hero, things become murky and frustrating."
Engadget: "The Hero represents a valiant effort from HTC — though unfortunately, the company appears to have bitten off more than its last-generation hardware can chew. If this build of Android were to be loaded atop the guts of a 3GS or Pre, the performance would likely be astounding, but fused with the two-year old architecture of previous devices, it's mostly disappointing."
Geeks.co.uk: "I see this phone as a real current contender to the likes of the iPhone, N97, Samsung i8910 etc. and as a smartphone it delivers on pretty much every level necessary. The Hero feels well built, is a pleasure to use and of course, to customise."
Nanu's Blog: Very good user review using the Orange branded HTC Hero. "The Hero is a good alternative for those who want to use an up and coming OS, for those who don't want to sign away their soul to O2 for an iPhone, for those who are sick of Nokia feeding them S60 which they have done for a good few years now, for those who are fed up of the archaic Windows Mobile which is still essentially the same OS I was using nearly 10 years ago on my Hewlett Packard Jornada."
Phandroid: "The main concern I've heard about the HTC Hero is that the screen lags and sure, maybe sometimes it does. But not enough to drag down an otherwise awesome phone and anyone with a G1 or Magic knows that OTA updates have continually aided the OS speed. Bottom line – it is only going to get better."
Hands-on previews
Phonedog: This blog only started on Monday and there was some good stuff from Phonedog before that. We already covered one video, but here's some other useful ones too:
HTC Hero: first boot, and some vague answers
HTC Hero: mail, messaging, Twitter
HTC Hero: music player and final thoughts
Phonescoop: Video Tour of the HTC Hero & the Sense user interface
Feel free to discuss this news in our forum.