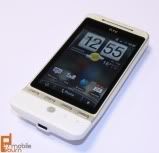 A couple of more HTC Hero reviews have popped up over the last day or so. So far the reviews have been a mixed bag. Some sites have been very positive, whilst others have been less so. The reviews from MobileBurn and Mobile Choice are very positive indeed.
Mobile Choice gave it a very good review awarding it the maximum five stars. "A phone with a near perfect operating system that's as powerful as it is a sheer pleasure to use. We like very much."
MobileBurn gave the handset a "Highly Recommended" award. "No other device that I've tested has been so easy to set up and so intuitive to use, whilst also being fun and functional. If you can get over the odd chin (I quite like it, actually) then this is surely a device to seriously consider." We have included the three-part video review from MobileBurn after the jump.