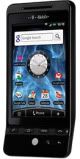 As expected, the T-Mobile is now selling the HTC Hero, branded as the T-Mobile G2 Touch, through its website. The handset is available for free on a £35 per month 18-month contract (Combi30 + Internet), which includes unlimited Internet, texts and 700 minutes of free calls per month.
The phone is also available on a Flext 40 tariff that costs £40 per month on an 18-month contract and gives you £225 of "credit" along with unlimited internet.
We also received confirmation from T-Mobile that it hasn't messed around with the branding too much. It claims that apart from the name and a link to its Web 'n' Walk page, there is no difference between the G2 Touch and a sim-free HTC Hero.
The G2 Touch comes in black only, comparing to the graphite model being currently offered by Orange. The T-Mobile G2 Touch is available online and over the phone from T-Mobile directly, it will hit T-Mobile stores in the next few days. Check out all the price plans after the break.
The plans available are as follows:
Combi:
£15.00/monthly, 100 minutes, 200 texts, £195.73 for phone
£20.00/monthly £166.37 for phone
£25.00/monthly £137.01 for phone
£30.00/monthly FREE phone
£31.50/monthly FREE phone
£36.00/monthlyFREE phone
Flext (18 months):
£40.00/monthly, £225 credit/month, FREE phone
£50.00/monthly, £325 credit/month, FREE phone
£60.00/monthly, £425credit/month, FREE phone
£75.00/monthly, £575 credit/month, FREE phone
£100.00/monthly, £775 credit/month, FREE phone