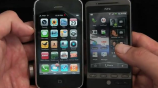 Any time a new touchscreen enabled handset comes to the market, it will always be compared to the iPhone, rightly or wrongly. It's now HTC Hero's turn to face the iPhone 3GS and Noah from phonedog.com does the honours.
He starts the video by referring to this duel as the past (iPhone) versus the future (Hero). More than anything he is referring to the UI both phones employ. He emphasises that the HTC Hero, using HTC's Sense UI is more 'people-friendly' compared to the application-centric iPhone.
He reiterates some reviews of the Hero that say it is "laggy" and "buggy", but says that he has received word that the company is hard at work on software optimisation to reduce the lag. The video that we've attached after the jump, is only part one of the "Dogfight", but is a well made video and gives a balanced view on both handsets.
Update: Phonedog have parts two and three of their dogfight up, we've attached both below.