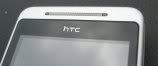 Another great review popped up over the weekend, that we thought we'd highlight. CoolSmartPhone has been using the phone for a number of weeks now and posted their extensive thoughts. Their overall verdict was a positive one and even suggests it's the closest handset to beat the iPhone.
They go on to say that it is the best Android handset in the market today and whilst the speed issue is there, it's not a showstopper.
"This phone is ruddy brilliant. There. I've admitted it. I feel like someone at an alcoholics anonymous. I'll stand up, I'll say it. I'm a Windows Mobile user and I like the HTC Hero." You can check out the full review here.