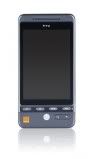 A number of Orange HTC Hero users have been voicing their frustration concerning certain paid applications not appearing in the Android marketplace. The problem relates to these apps being copy protected to prevent piracy. These apps apparently do not show up on unlocked or developer handsets that search the market. However, it seems that Orange branded HTC Hero handsets are also being affected. Orange has finally chimed in, confirming to TechRadar that there is indeed an issue.
"Further to recent reports of missing "Copy protected" applications on the HTC Hero in the UK, Orange can confirm that it is aware of the issues and is working with HTC to urgently resolve. As it currently appears to be a server fix no change to handsets should be required, and once resolved we expect all paid applications in the English language to reappear."
Orange hopes that this issue will be resolved quickly and some apps have already started to appear.