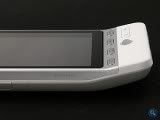 Following on from our first and second review roundups, a few more have been posted that we thought we'd highlight. Once again, the tone across all of the reviews is positive, with the Sense UI and browser garnering particular praise.
The usual negative points appear in most of the reviews (sluggish performance, mediocre camera etc.) However, hopefully HTC are working hard behind the scenes to make this less of an issue. Check out a list of the latest reviews after the break.
Update: We have also included a video review below from the guys over at PhoneArena.
3G.co.uk: "The Hero can take on the iPhone 3GS in features and usability, but more importantly, it has marked the gold standard for how phones will function – as a mobile device to access your media, data and friends through the internet."
Geekanoids: "The HTC Hero is an excellent mobile phone. It offers great build quality and design. The user interface works fine if you don't overload it. The Android platform is quite frankly superb. If you need a smartphone for your emails, internet and social networking, the Hero is highly recommended."
IntoMobile: "GREAT handset – really good! Slightly quirky design belies a gorgeous looking UI, great responsive Apps, and ultimately a superb first Android device from HTC. If you don't want an iPhone, buy this. Now."
PhoneArena: "So, what do you think? Is the HTC Hero the much anticipated fairytale hero? The smartphone of the future? The best Android cell phone to date? It´s only the last statement that holds true, at least in our own lights. Still, the HTC Hero demonstrates the good things about getting a device that fits well into your social routine."
Saitti: "The UI. It looks gorgeous, it's fast and responsive, and although it has a habit of stuttering briefly every now and then, I have to say I love it."
TrustedReviews: "The HTC Hero is truly a superb phone and a real competitor to the iPhone range. The addition of multitouch, the flawed but still useful Flash support, plus the excellent HTC widgets make it a joy to use and place it significantly ahead of any previous Android phone."
Tracy and Matt's Blog: "The day to day use and the endlessly customisable screens make this device great to pick up and play with in quieter moments. The automatic updating of weather, twitter and so on keeps everything up to date and current without any hassle."