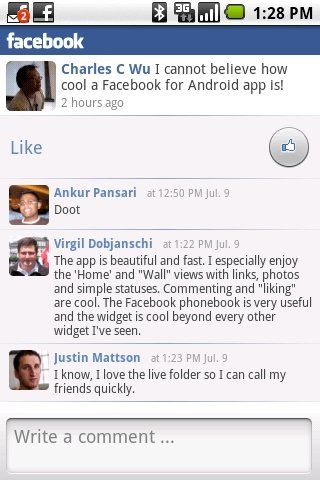 Facebook for Android has now officially been released. The application has been criticised in some quarters for not being as fully featured as hoped. For example, there is no support for Inbox, Friends and Chat. However, on the positive side, you do get a home screen widget, news feed as well as the ability to upload photos. Also, the user interface is simple and clean. We like how shaking the phone updates the friend feed too! The app is also fast to use, moving through a number of screens without a hiccup.
Whilst I can understand some people's complaints, this app will only get better as time goes on. I get a feeling that the developers just wanted to get something out there, especially for what is conceived to be a critical app for a lot of people. There was some initial speculation that this was not the official Facebook app, however we're now hearing that it is the official app, but was produced with the help of Google engineers to get it out of the door quickly.
As you would expect, the app is free & is available to download now. You can check out a couple of videos (from Phandroid & TechCrunch) of the app in action after the jump.