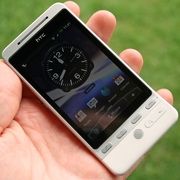 Okay, I know this news is a week old, but I've been away (without internet access) so I'm just catching up! The much-awaited HTC Hero ROM update was released across most regions last week (15th September). The new firmware upgrades the ROM to v2.73.405.5.
Frustratingly, this particular update only works for sim-free handsets. For those who bought their handsets from Orange UK, there is a network-specific update available as we speak that upgrades the ROM to v2.73.61.5. T-Mobile UK users have been left in the cold for the time being, although an update is "imminent".
The benefits of the new update include greater speed as well as touch-focus functionality to the 5MP camera. The update takes around 10 minutes to install but wipes the HTC Hero in the process. As we've mentioned before, the update requires a Windows PC, leaving MAC/Linux users out in the cold.