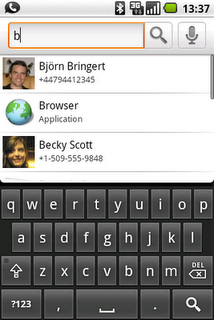 One of the exciting new features to come out of the Donut release (v1.6) of Android is the Quick Search Box (QSB). This is effectively a self-learning system that will enable you to search the phones internet history and emails. The functions you access most often will move higher on the suggested items list.
The QSB will be available from the home screen and, in theory, should allow you to search what you are looking for by typing just a few characters. This one search box will cater for both web & phone content (including apps & browser history), all without opening the browser.
You can also use voice on the search box – tapping the microphone icon and speaking your query or the name of the person you want to call. That only works in English for now, though. Now all we need is for Donut to be released ASAP, hopefully there's not too long to wait now. Check out a video demo of the QSB after the jump.