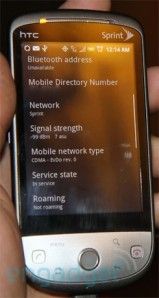 Sprint finally released its chinless HTC Hero handset to the American market yesterday. However, most phone launches have one hiccup or another and there's no exception here.
Some users are complaining that the Hero is not operating on Sprint's fastest network (EVDO REV. A), but instead is on the slower EVDO REV. 0 network (especially for uploads). This is despite being in an EVDO REV. A area.
Are you affected? To find out, go to 'Settings', click on 'About Phone', then 'Status' and finally view 'Mobile Network Type'. Hopefully, this issue can be fixed via a simple update and let's hope Sprint gets round to it pretty soon.
Update: HTC has responded to this issue. They have said that the "status currently reads Rev 0 whether or not it is on Rev A".
Via Engadget.