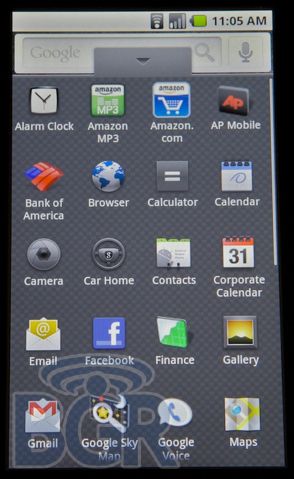 Okay, despite the fact that most HTC Hero users are still waiting for the Android 1.6 (Donut) OTA update, that doesn't stop us looking forward to next year's big Android 2.0 (Éclair) release. The guys over at BoyGeniusReport managed to get the OS running on the Moto Sholes and have given an excellent walkthrough of some of its major features.
Now, I've not even seen any leaked pictures of this before, so browsing through these screenshots has me salivating. Android is increasingly looking like a mature platform with each new release. The whole interface seems to have been rethought.
Some of the big new features includes integrated facebook functionality, a new YouTube widget, native exchange support, layers support for maps. There is also a Car Home shortcut that gathers activities you'd most likely do while driving, including voice commands & getting directions. This is before mentioning the unified inbox and wider use of voice control. Overall, it's looking like a stellar update, click through to BGR to check out the full walkthrough.