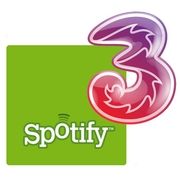 Rumours surfaced last week that UK mobile operator, 3, had agreed a dea with Spotify to launch the HTC Hero bundled with a Spotify Premium. This subscription would normally cost you £10 per month.
This now appears to be official and will be 3's first Android handset. It will launch on a two-year contract costing £99 up front and £35 per month thereon. As well as Spotify Premium, the contract will include 750 minutes of voice calls and unlimited texts, unlimited data (crucially) as well as Skype-to-Skype calls.
It seems a reasonable package to me, especially considering you are getting £240 worth of Spotify content thrown into the package too. You can register your interest in the above link, although it appears to be down right now. The Spotify/HTC Hero contract is expected to launch in early November.