Today we are reviewing the official desktop cradle for the HTC Hero handset. Cradles are one of those accessories that some people like to have and some don't. They are certainly not necessary since most cradles only do as much as charge your device. This can often easily be achieved by connecting a USB cable, however, cradles do add order to a desk and some are rather stylish, much like the HTC CR G300 desktop cradle we're looking at today.
MobileFun, a specialist retailer of mobile accessories, kindly sent over the cradle for us to review. The cradle is actually designed to work with a number of HTC handsets including the Touch Pro, Touch Diamond and Magic and costs £29.95. MobileFun applies a small delivery charge on top of this depending on whether shipping is to the UK or mainland Europe.
The cradle can not only be used for charging or syncing your HTC Hero, but it also has a 3.5mm line out that you can use to connect to some speakers and play music with.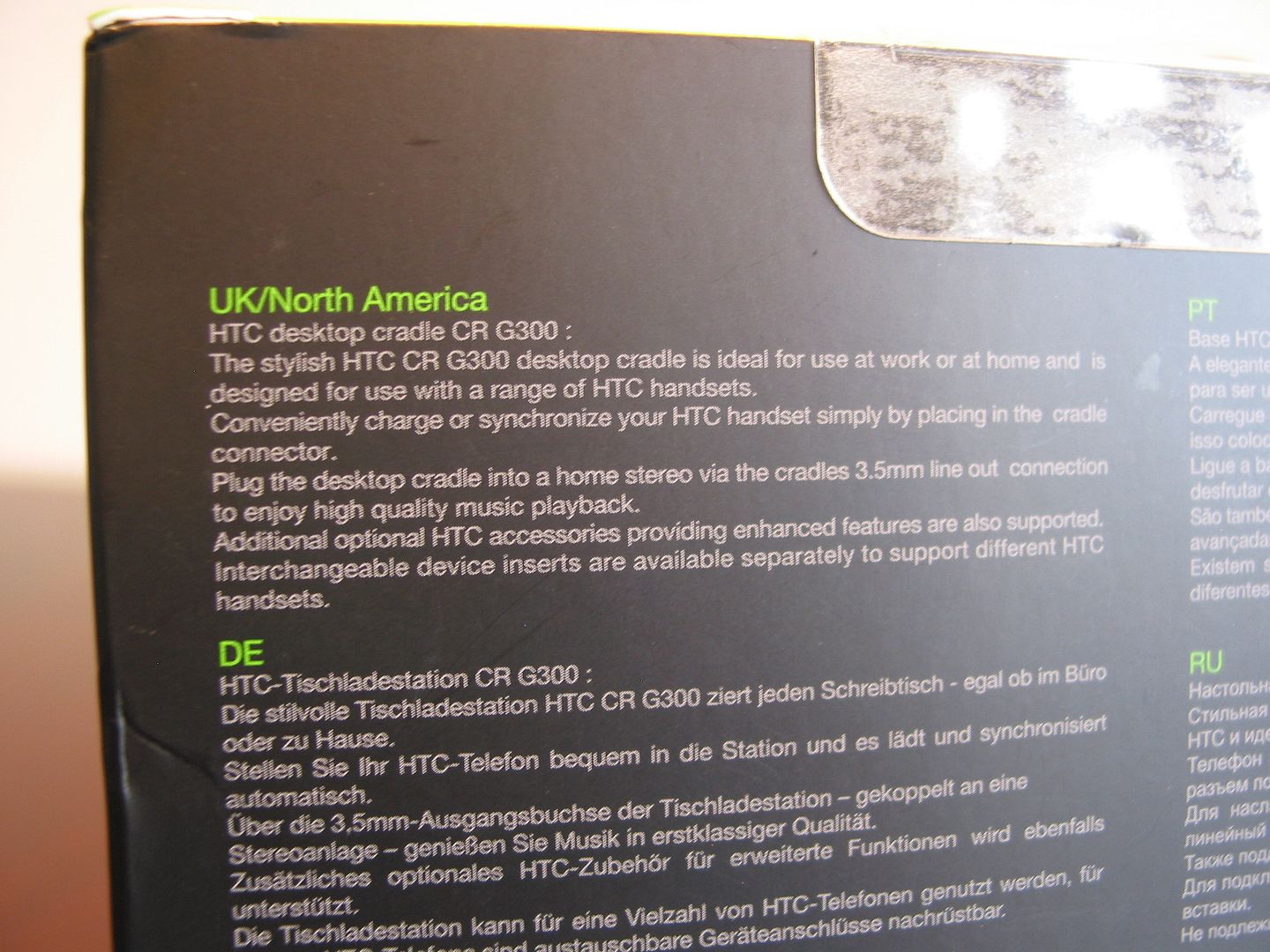 Apart from the cradle itself, inside the box you will find device inserts that fit various HTC phones as well as some documentation.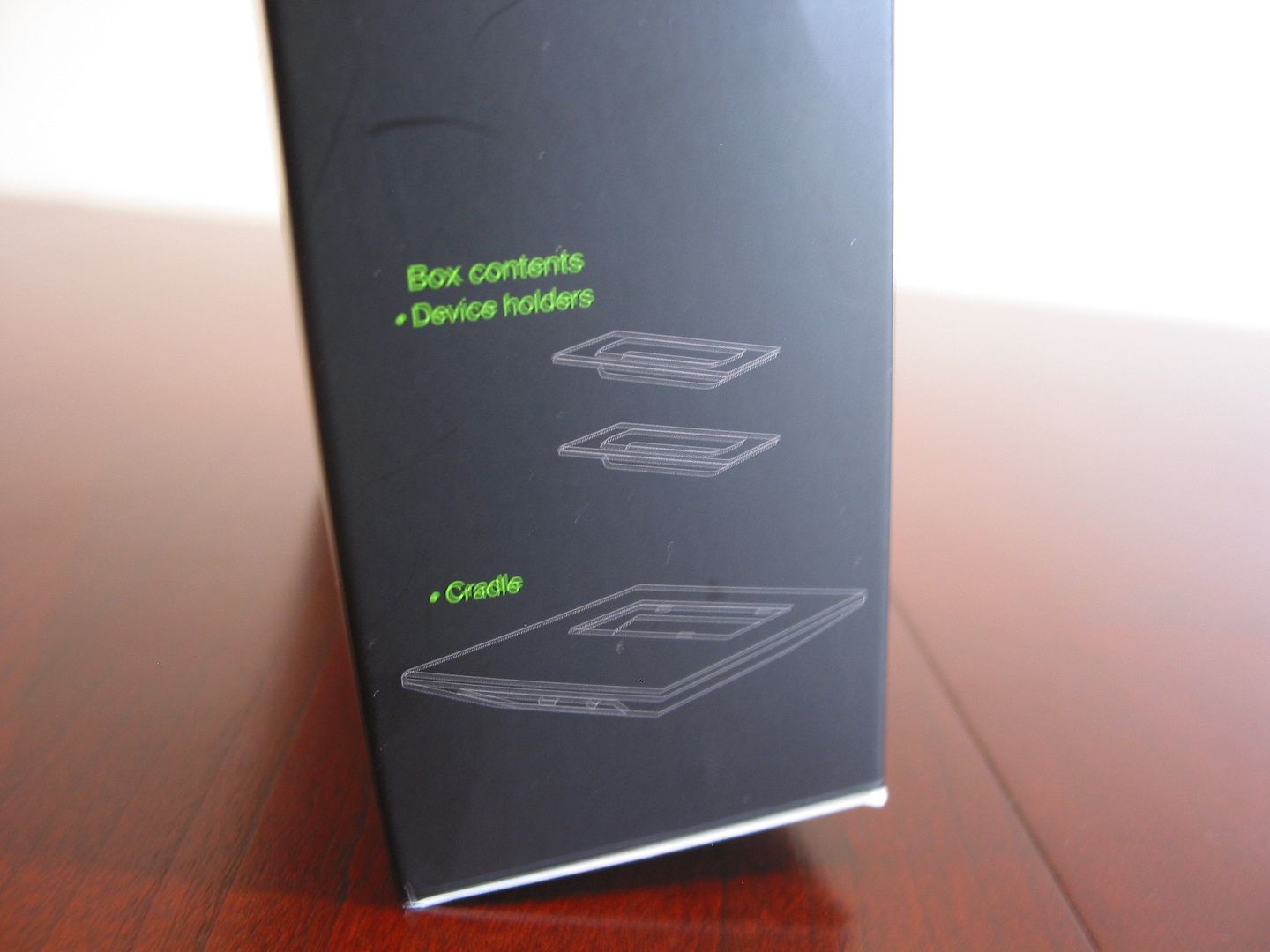 What you won't find however is a USB cable to connect it to your PC. This is a ridiculous decision on HTC's part. It means you either have to use the cable currently used in your plug adaptor or buy a new one. Given that this is a relatively premium product (compared to other cradles), it's a bit tight of HTC not to include a USB cable in the box. I'm sure I'm not the only one who likes to use a cradle as well as a plug to charge my mobile products!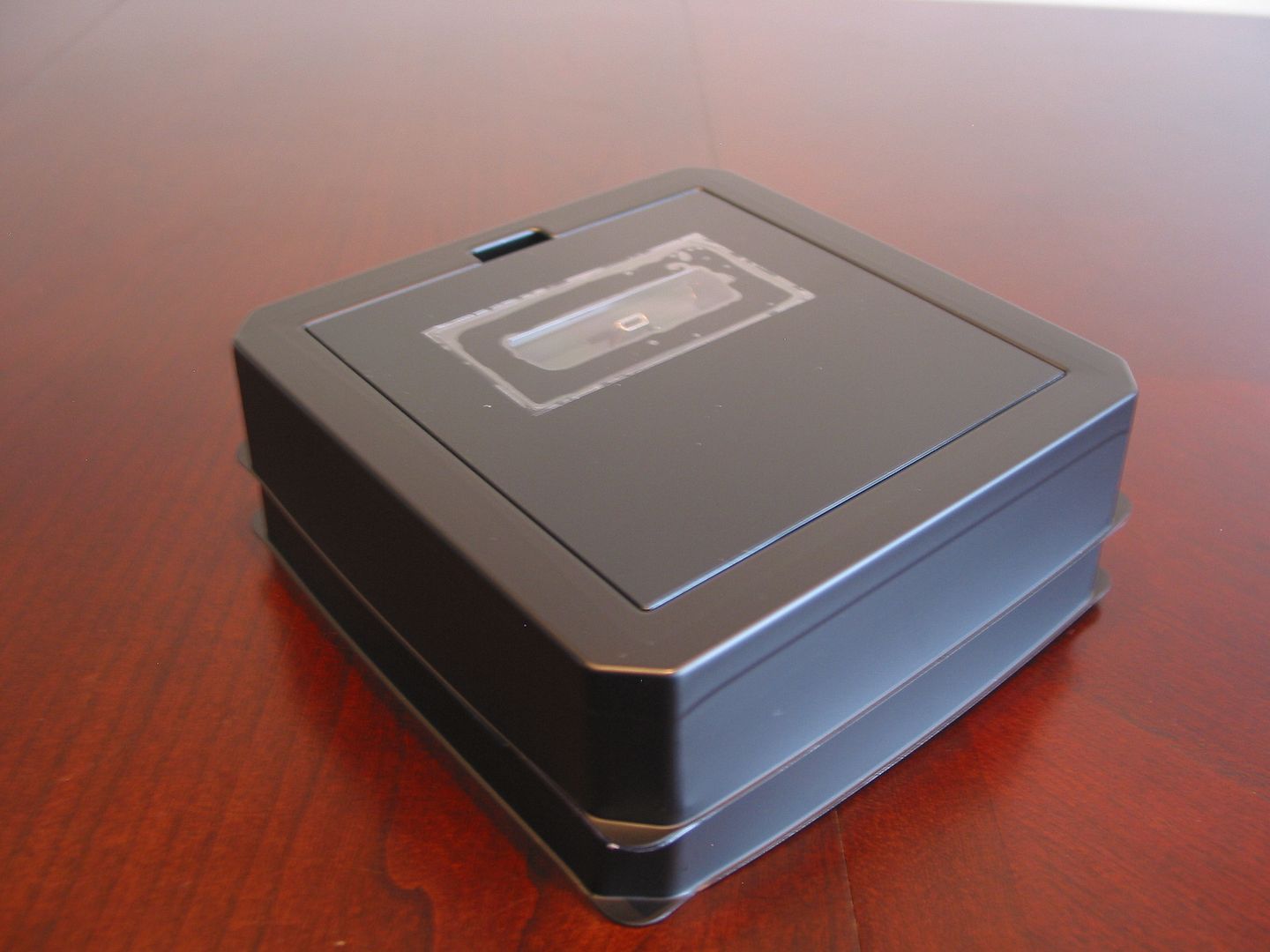 A few pieces of documentation accompanies the cradle, this includes a quick manual, warranty booklet and HTC accessory product leaflet.
Assembly is all quite straightforward, but for those that need a hand the manual gives very clear instructions.
The cradle comes with five different device handsets, each one is designed to fit a different HTC handset. Whilst, it is nice to see the cradle support so many handsets, we would have appreciated some kind of label on each insert telling us exactly which one fits each phone. As it was, we had to find the right one through trial and error.
The cradle comes in a glossy black plastic finish and it certainly looks very sleek and would be a welcome addition on most desktops.
The bottom has rubber feet to much sure it doesn't slip once placed on a desk. The bottom comes in a matte plastic and the sharp lines exist on the bottom too.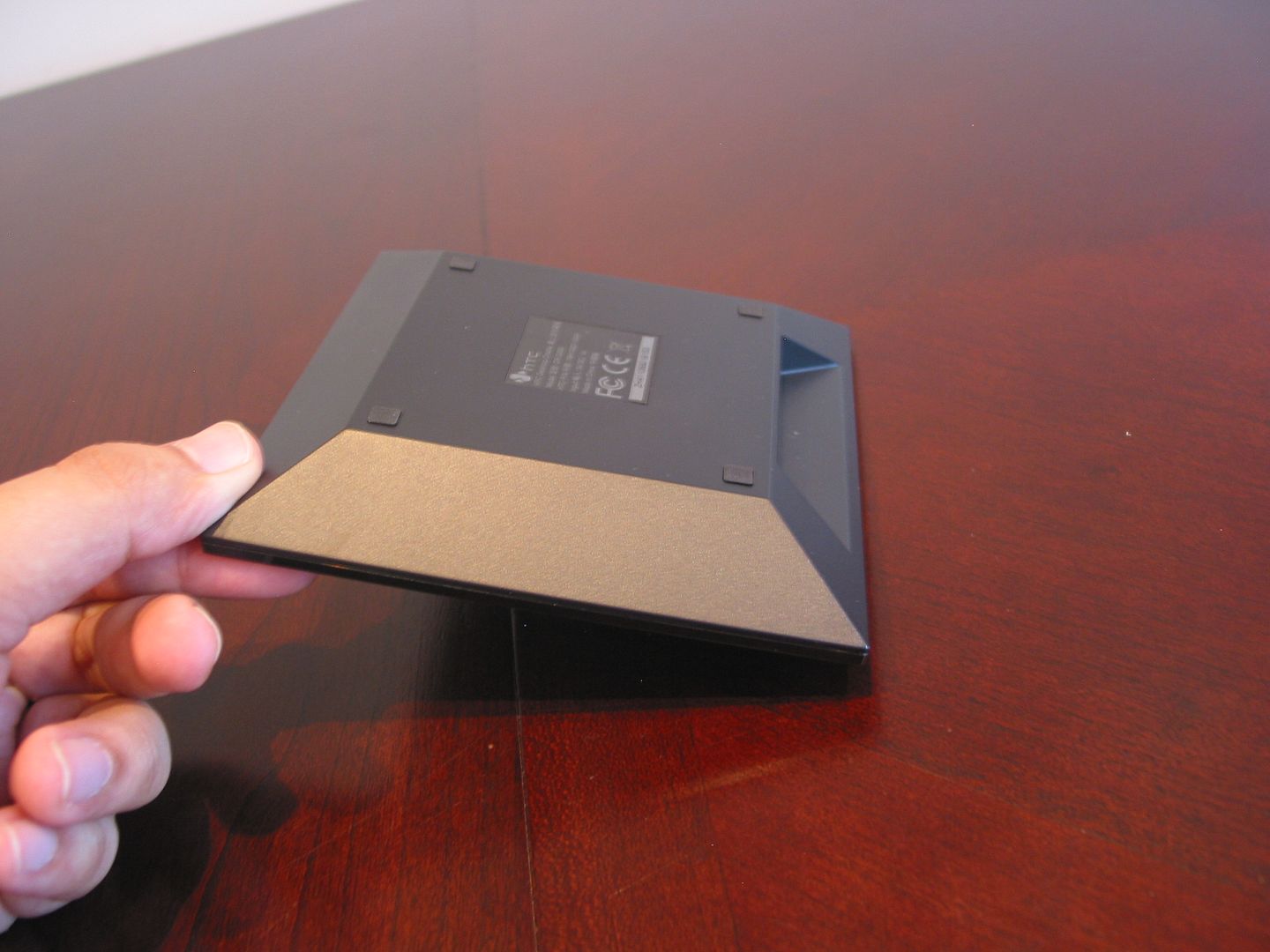 You will only find two ports on the bottom of the cradle, one is the USB port to connect the Hero and the other is a 3.5mm line out to connect the cradle to a music system.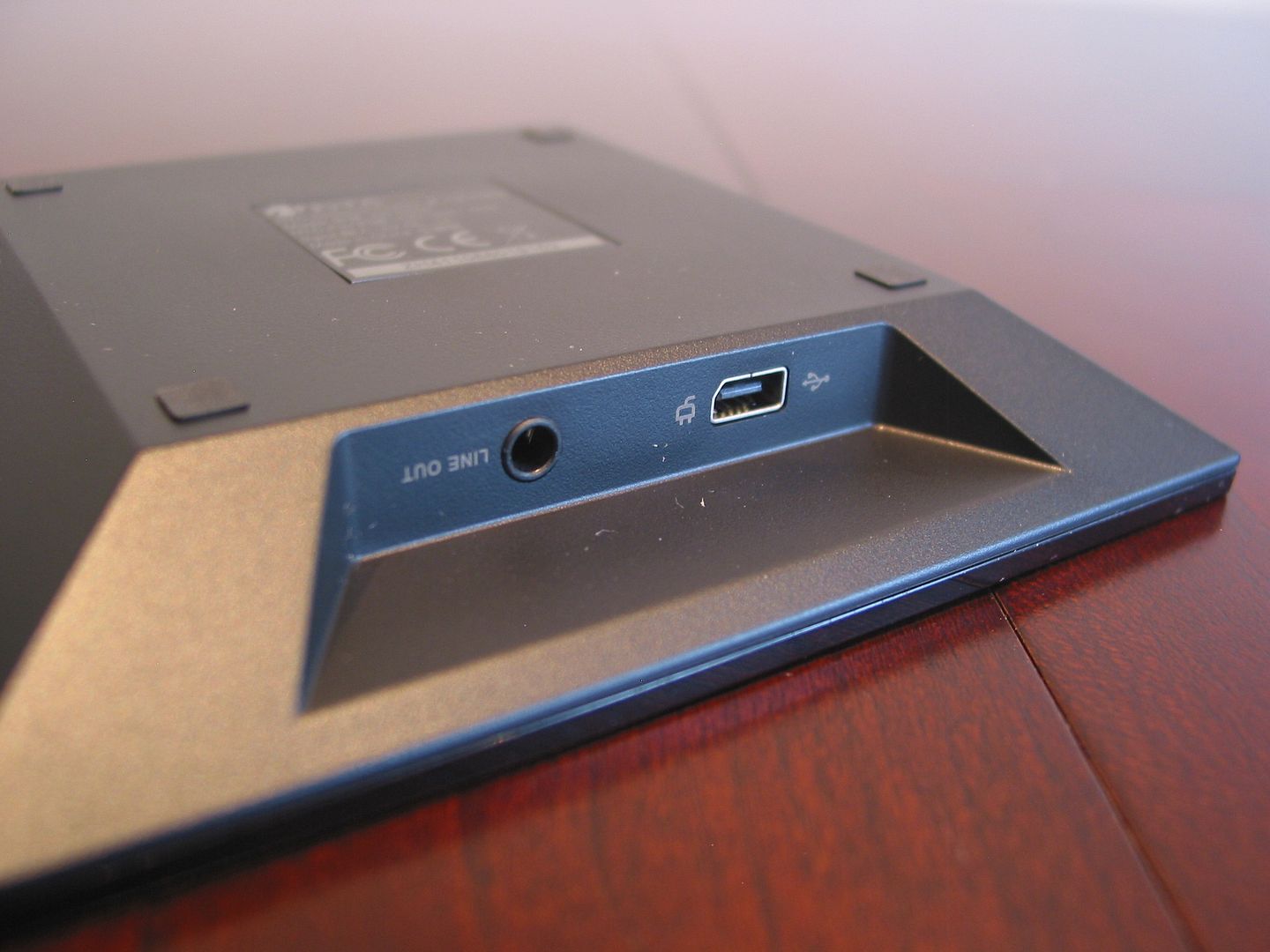 In terms of the charging and syncing functionality it works just as well as it does via the USB cable. The audio line out also works well with good sound reproduction. There's no denying it's a very sexy cradle and the minimalist design really suits the Hero handset. It's certainly not cheap and we were surprised to not see a USB cable in the box, especially given its premium pricing. However, if these issues don't bother you then it comes recommended, mainly for its very classy looks.
Many thanks to MobileFun for sending through this desktop cradle for review!
Update: A few readers were curious to know how much room there is in the cradle for cases. We have included a few extra pictures below that shows there is no extra room at all. You'll have to remove any case to use this cradle I'm afraid.