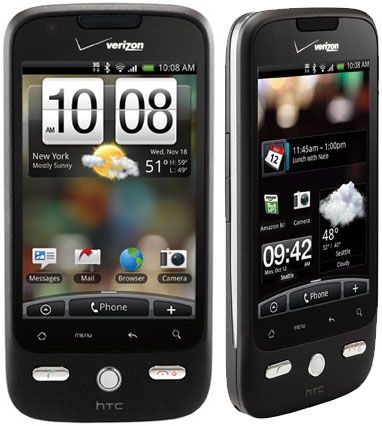 HTC has officially announced the Droid Eris Android handset that will launch with Verizon Wireless. The interesting part is that in many ways, this handset is very similar to the Sprint's HTC Hero – not only in form-factor but in specifications too.
The Droid Eris comes with the same 3.2-inch multi-touch display, the same 528MHz Qualcomm MSM 7600 chipset and same ROM (512MB) and RAM (288MB) specifications. However, the Eris does get a proximity sensor to turn the touchscreen off when next to your head. On the negative side it has a lower capacity battery (1300mAh versus 1500mAh).
There are also some design differences between the two and the Eris has some capacitive touch buttons for the Call, End Call, Home and Menu functions. The Eris is also thinner and that's why I imagine it has the lower capacity battery.
The real question comes down to which one people will pick. Verizon is selling the Droid Eris for $99, compared to the Sprint HTC Hero at $179. It doesn't take a genius to work out that Eris is probably more enticing given its $80 discount over the HTC Hero. However, this is likely to mean that we will see a price war in the lead up to Christmas. Those of you considering the Sprint HTC Hero may just want to hold off for now. The Droid Eris hits stores tomorrow (6th November).