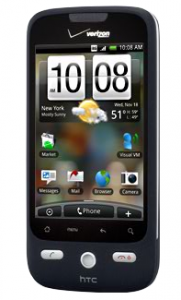 Verizon's HTC Droid Eris will be getting an OS update in the first quarter of next year according to Information Week. We don't know exactly which update the Eris will see, but it will include Google Maps Navigation.
"The Droid Eris currently using Android 1.5, can and will be upgraded to newer a Android operating system software in first quarter 2010. The enhancement will allow customers to continue to enjoy the powerful HTC Sense experience while also gaining the additional benefits of Google Maps Navigation," said Verizon spokesperson Brenda Raney.
As Google maps Navigation appears on Android 1.6 through to 2.1 it doesn't make it any clearer as to which update Eris owners will see. However, when asked to clarify the statement, Raney said that it will be either 2.0 or 2.1. This is not surprising as it is likely to the same Eclair update that HTC Hero owners are expecting to see.
Update: PhoneArena are suggesting that the Eris ROM update is due on January 22nd 2010. The ROM update will update the firmware to Android 2.1.