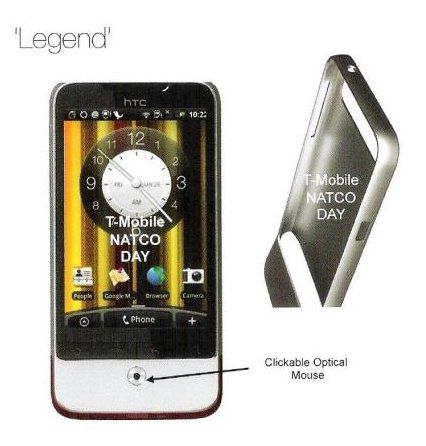 A whole portfolio of HTC smartphones were allegedly leaked today, including five Android handsets. There appear to be some exciting models on the horizon (if the leak is true) including the HTC Bravo that sports a 3.7-inch AMOLED display, 720p HD video recording and Divx support. Another handset called the HTC Legend appears to be the successor to our beloved HTC Hero.
This model is just 11.4mm thin and comes in a metallic frame. Improvements over the HTC Hero include an optical mouse (instead of touchball), a 3.2-inch OLED display, a 5MP camera with flash all powered by a 600MHz Qualcomm MSM 7227 chipset.
The HTC Legend is set to land in March 2010 according to the slides, which puts it in for an appearance post the Mobile World Congress show in Barcelona from 15th – 18th February. This fits in with what HTC executive, Patrik Andersson, said recently about the 'Hero 2'. He claimed that the phone would be announced at MWC and will ship it soon after. Check out the key HTC Legend slides after the break.