The Desk Genie is an interesting mobile phone accessory. As the name suggests, the Desk Genie is a mobile phone holder that charges pretty much any mobile phone out there whilst also acting as a two-port USB hub and 8-in-1 card reader. It comes with a non-slip surface that holds your phone in one place.
MobileFun, a specialist retailer of mobile accessories, kindly sent over the Desk Genie for us to review. The device costs £14.99. MobileFun applies a small delivery charge on top of this depending on whether shipping is to the UK or mainland Europe. Click through to read our impressions of this charging desk stand.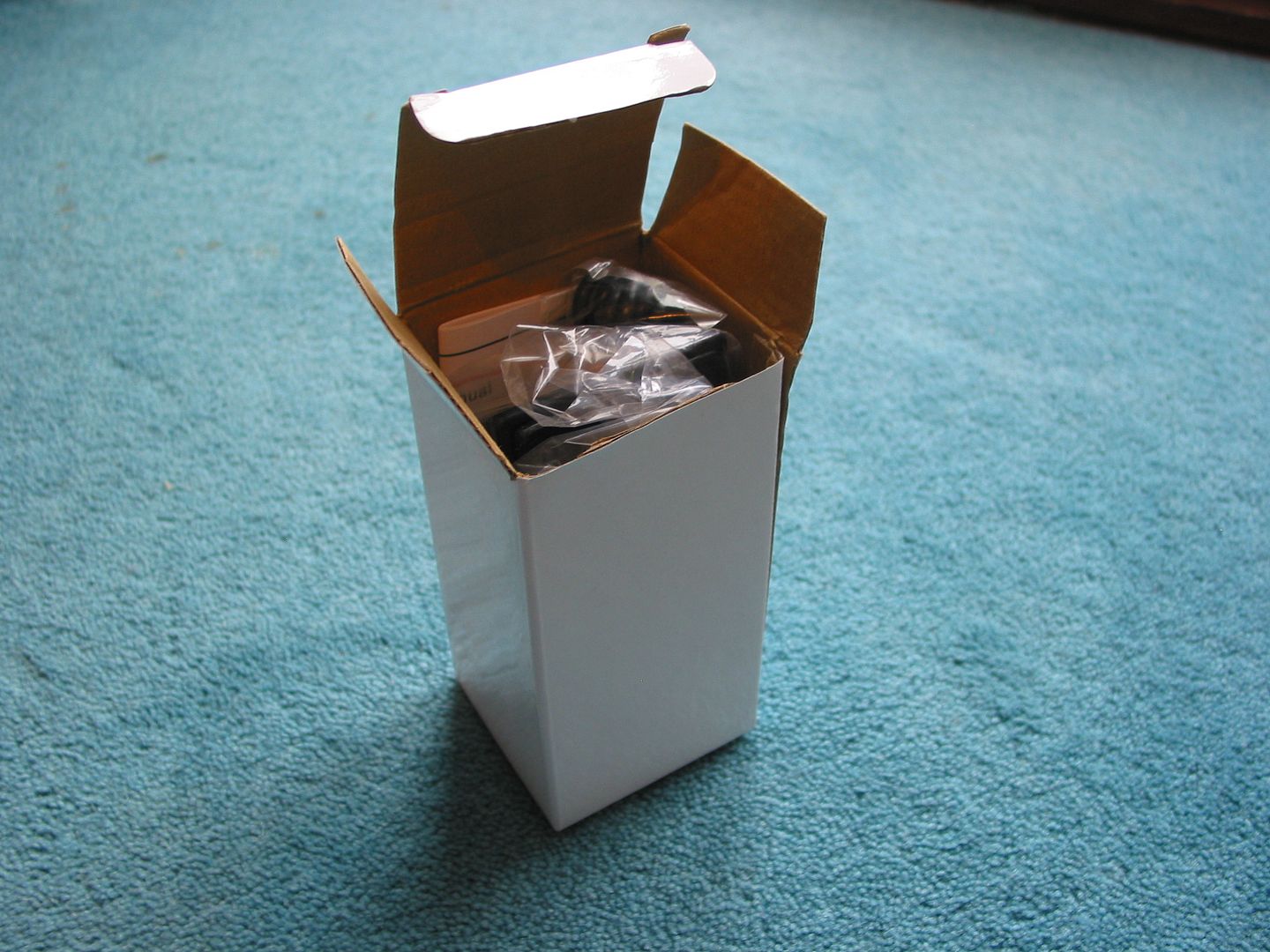 The Desk Genie itself comes in a small white unmarked cardboard box. Inside the box you'll find the stand itself, a manual, USB cable and a number of mobile adaptors that should fit a number of cell phones.
I didn't find the manual to be very useful, it gives you instructions on how the Desk Genie can be used as a USB hub and card reader, but there is little information on getting started with charging your handset. You can have a look for yourself by downloading the instructions from here.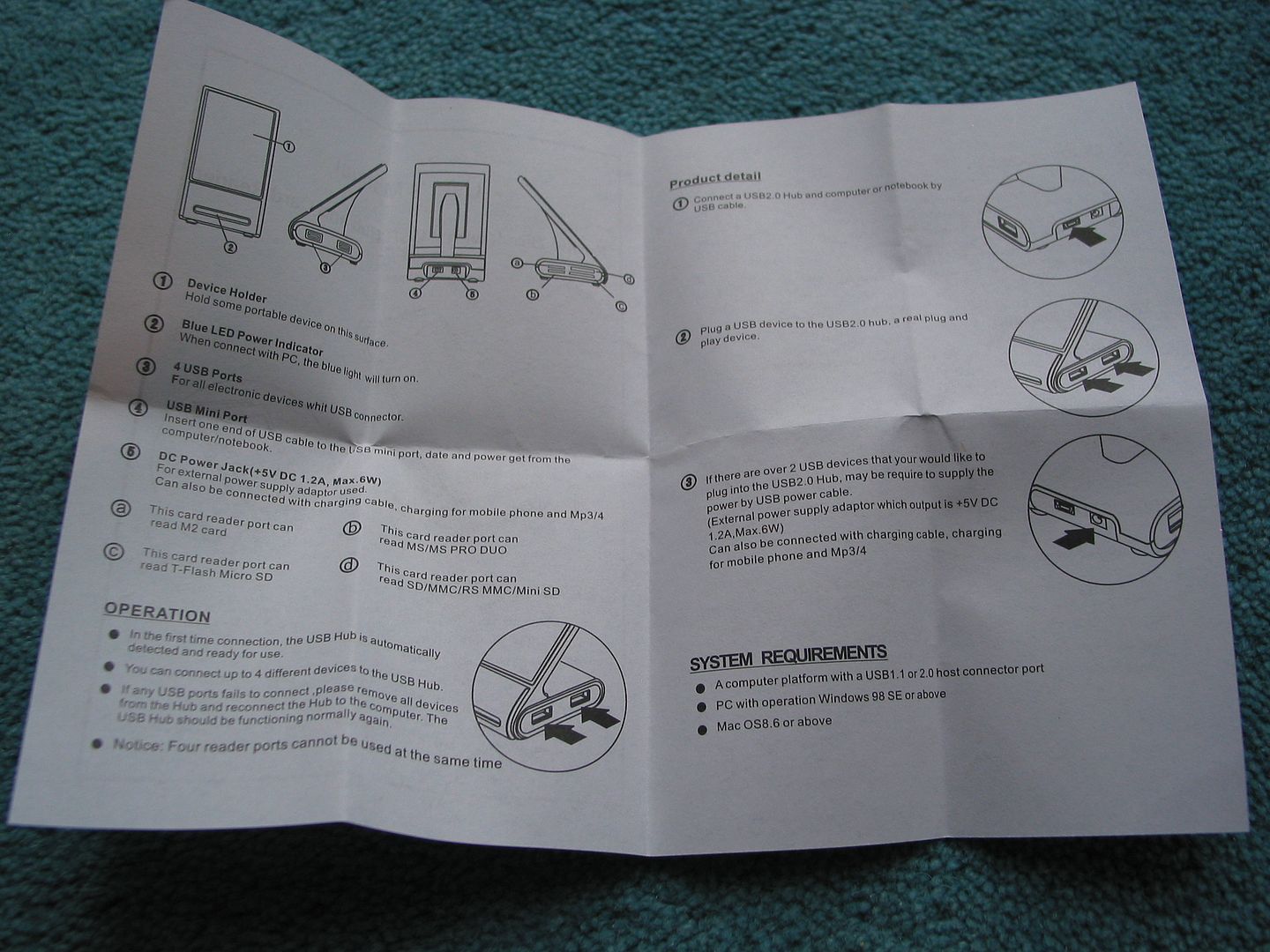 Inside the box you'll find a number of different phone adaptors that should fit various mobile phones on the market. For a full list check out the MobileFun product page. The cable on the right side is what these adaptors connect to, this is then connected to the charging stand.
The stand itself is made from plastic and is L-shaped in design. The picture below shows the non-slip surface covered in its initial protective plastic, once removed it is black rubbery surface. The base holds a couple of USB ports on one side and the card reader on the other. You can't see it here, but the front of the stand has a blue LED, which lights up when charging. It measures 59 x 102 x 106mm and weighs 95g.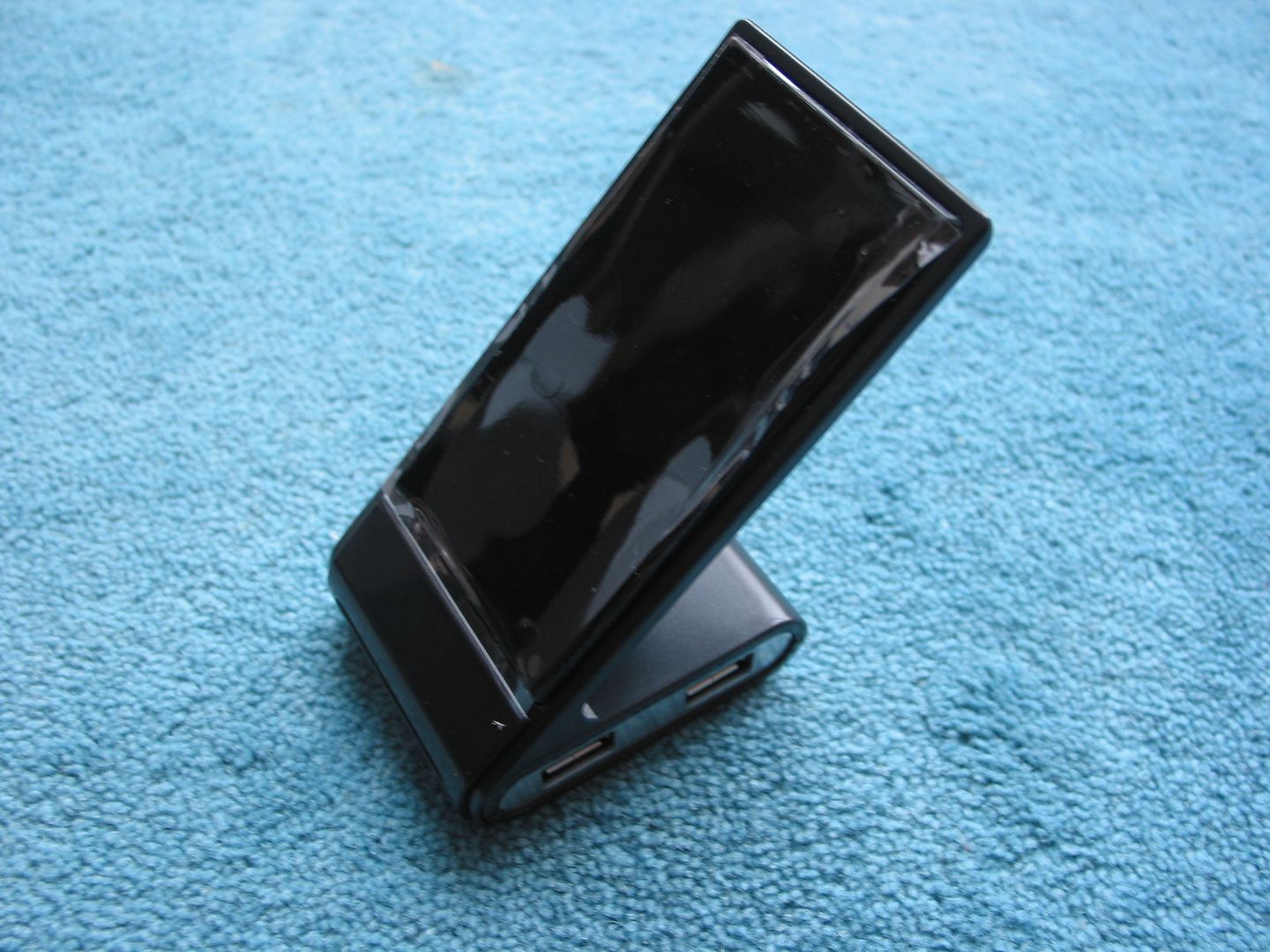 The back of the Desk Genie has a mini USB port and DC power jack. The USB port is connected to your laptop or PC and the power jack is connected to your mobile, via the short cable described above.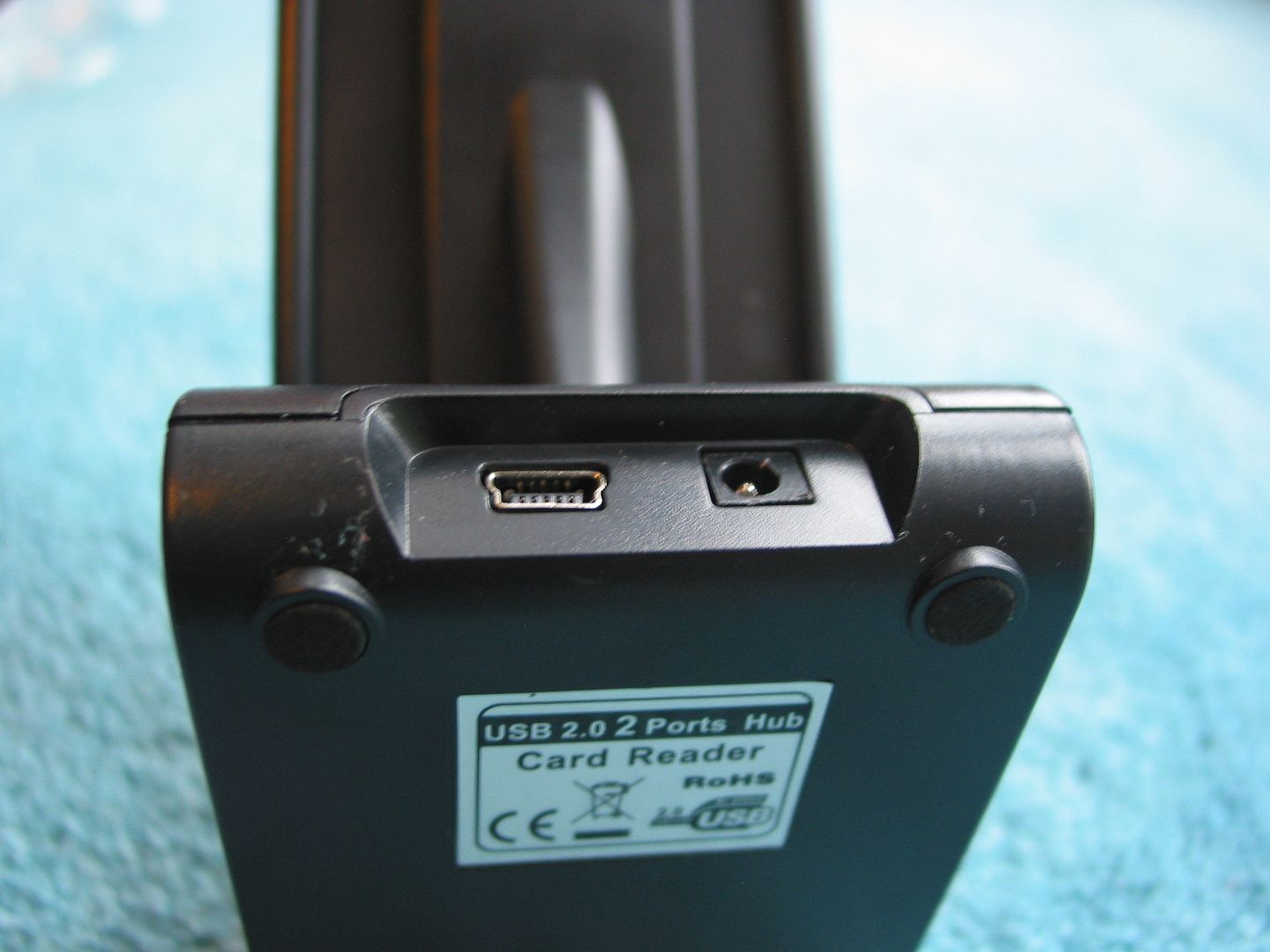 One side of the base holds the 8-in-1 card reader. There are 4 slots here that should allow you to transfer files from a number of different formats including SD, MMC, MicroSD and M2 cards (the latter two without adaptors). We tested a couple of memory cards that worked without issue.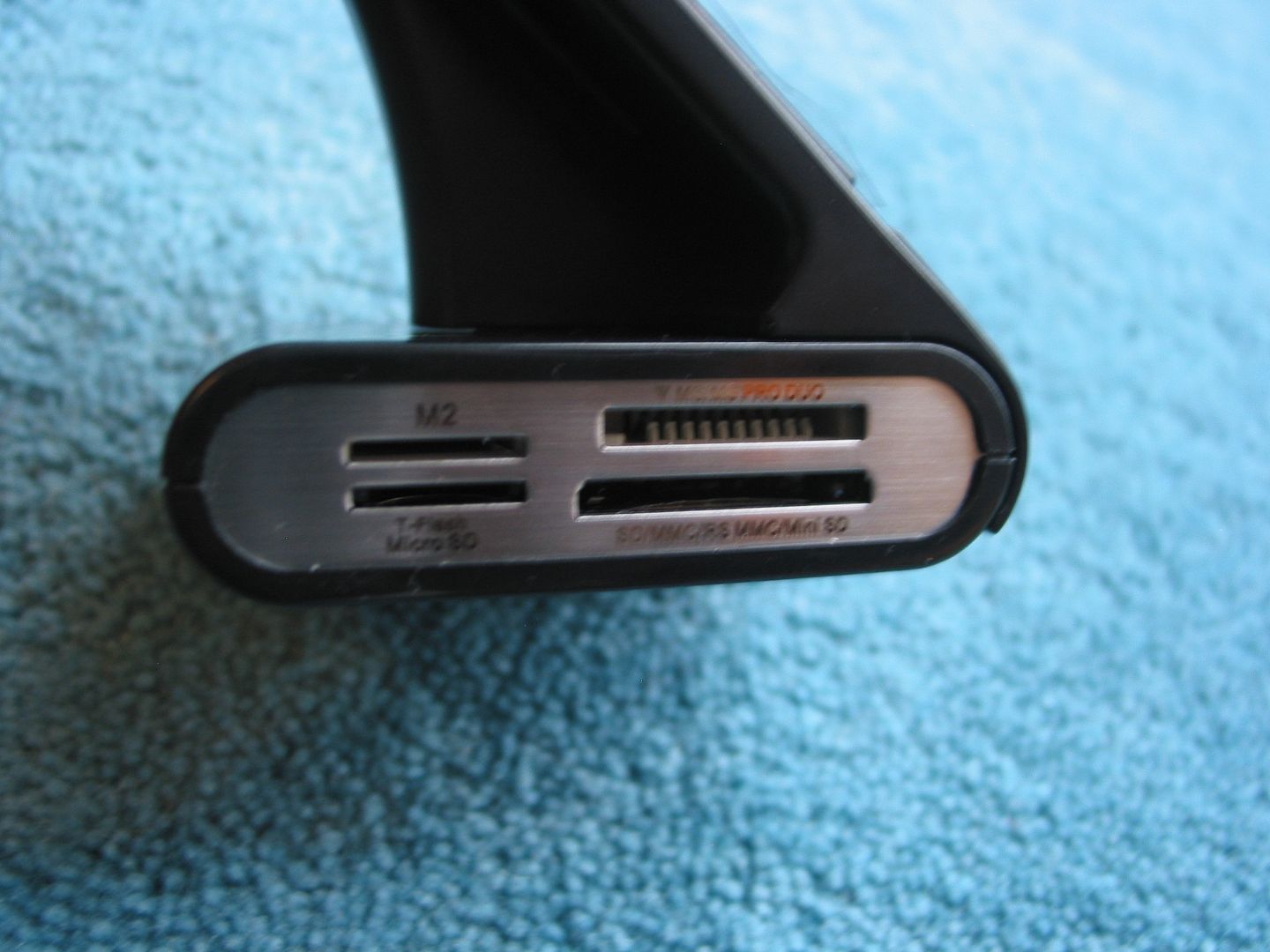 The other side holds two USB 2.0 ports that can be used as a hub for your laptop or PC. These ports can be used with USB memory sticks and Bluetooth dongles. This worked as advertised without any complications.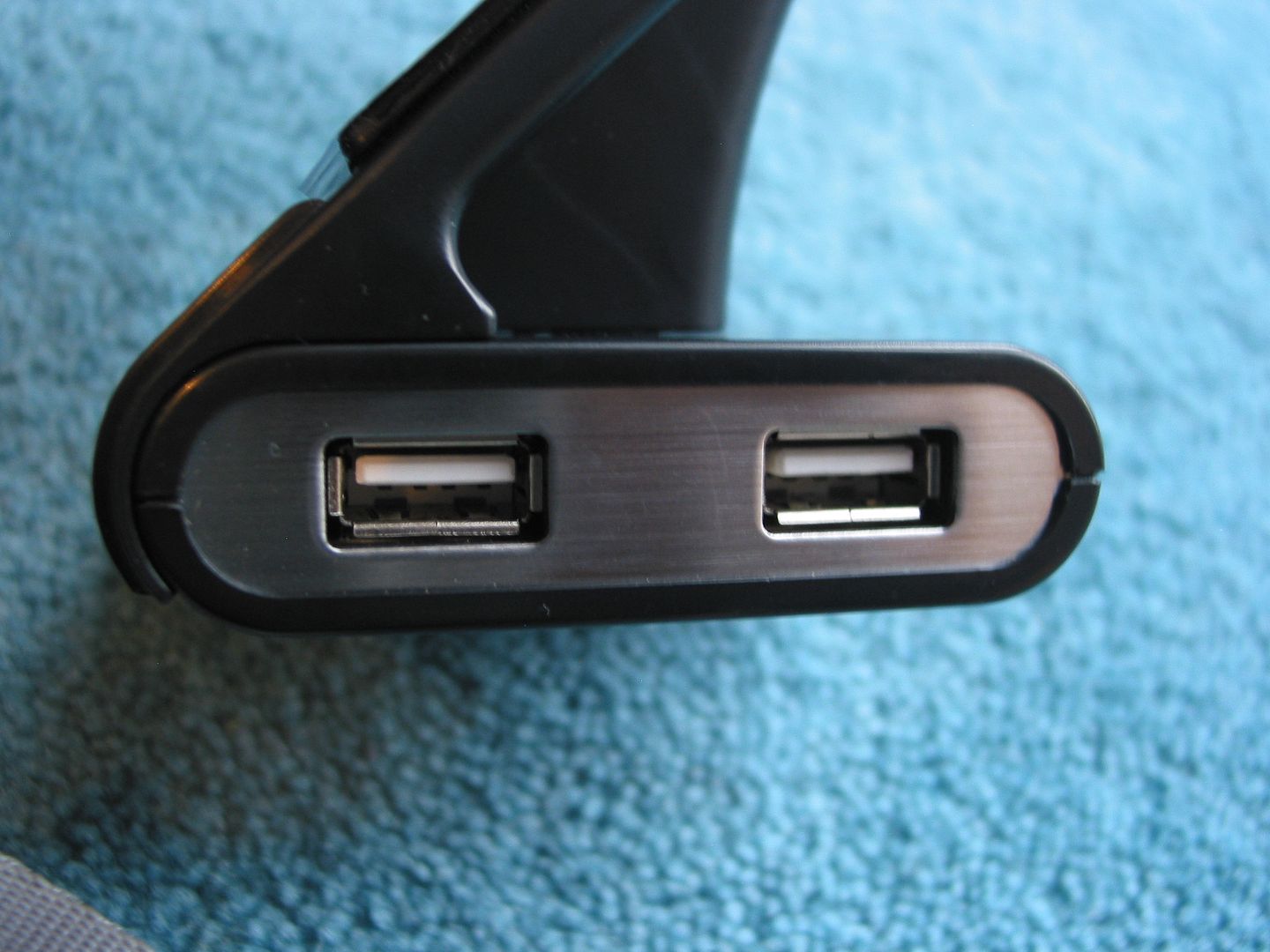 Set-up is straight forward, but one issue we had is that the power cable does not fit snugly into the port. The cable header is a bit too big and is restricted by the stand. You have to force the cable downwards to make sure it's connected (even then it's not snug).
Once it's all setup it works as advertised. The Desk Genie is purely a charging device only, it cannot be used to sync to your PC, which is probably the main disappointment. Had you been able to power your device whilst having access it would have been an easier sell.
However, as a charging device it works very well and the addition of a USB hub and card reader is a nice touch. The non-slip surface also works, you can place your mobile in almost any position (maybe if you want to watch a video whilst travelling) and it won't come off.
I questioned the use of this cell phone holder when I first received it, but as I've tested it over the last few weeks I've become increasingly fond of it. I have set it up with my desktop PC and it's taken permanent residency there. It's not one of those accessories that you think is a must-have but it is surprisingly practical. Overall, we were pleasantly surprised by the Desk Genie, if syncing to your PC isn't a priority than it comes recommended.
Many thanks to MobileFun for sending through this charging stand for review!