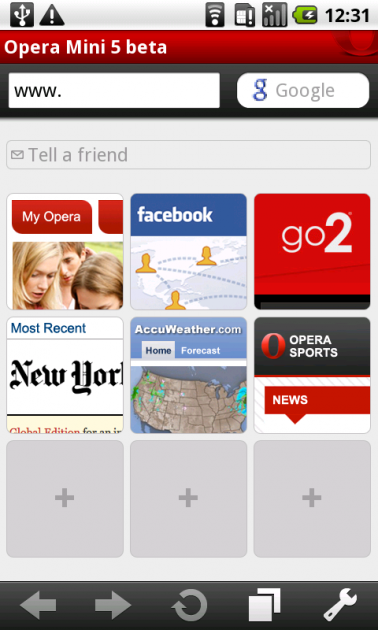 The latest beta for Opera Mini 5 is now available to download via the Android Market on your HTC Hero handset. There are a number of big improvements including tabbed browsing, speed dial (straight from the desktop version), password manager and Opera Link that syncs bookmarks between mobile and handset.
I'm a big fan of Opera, it is my default browser of choice on the desktop and it is normally once of the first things I install on a new phone. The HTC Hero was different as frankly the last version Opera on Android was pretty rubbish. It crashed often and didn't do what I wanted. However, the new version is better, although it doesn't support multitouch which is a shame. It's still worth giving a try, go find it in the Market now.
Update: Engadget has a video comparing Opera Mini 5 against the stock Android browser. To cut a long story short, Opera crushes the stock browser in terms of speed. Check out the video after the jump.