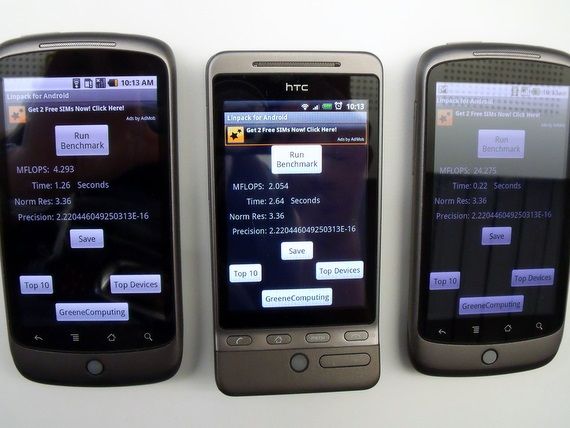 There has been a lot of buzz about Android 2.2 (Froyo) over the last week or so, with one of the major improvements being a performance increase. Whilst Sprint HTC Hero owners have been lucky enough to get the Android 2.1 (Éclair) update to lessen the pain, GSM HTC Hero owners are still waiting.
To rub salt in the wound, Cnet conducted some interesting (albeit not very scientific) speed testing comparing Android 1.5 on a HTC Hero against Éclair and Froyo running on a Nexus One. I know that the test results are likely to be skewed considering the Hero's slower processor, but the results are still interesting nonetheless.
They conducted two tests, a Java virtual machine speed test along with a JavaScript test. They tested Java using Linpack benchmarks and the result shows a clear distinction between Android firmware. HTC Hero, probably as expected, is propping up the pack.

Javascript was tested using the SunSpider JavaScript benchmark. Smaller is better in this one, hence HTC Hero gets obliterated once again.
Whilst a more interesting test would be to compare Android 1.5, 2.1 and 2.2 all on the HTC Hero, the results still show how much faster the current cream of the crop are compared to a handset less than a year old.
Via Cnet.